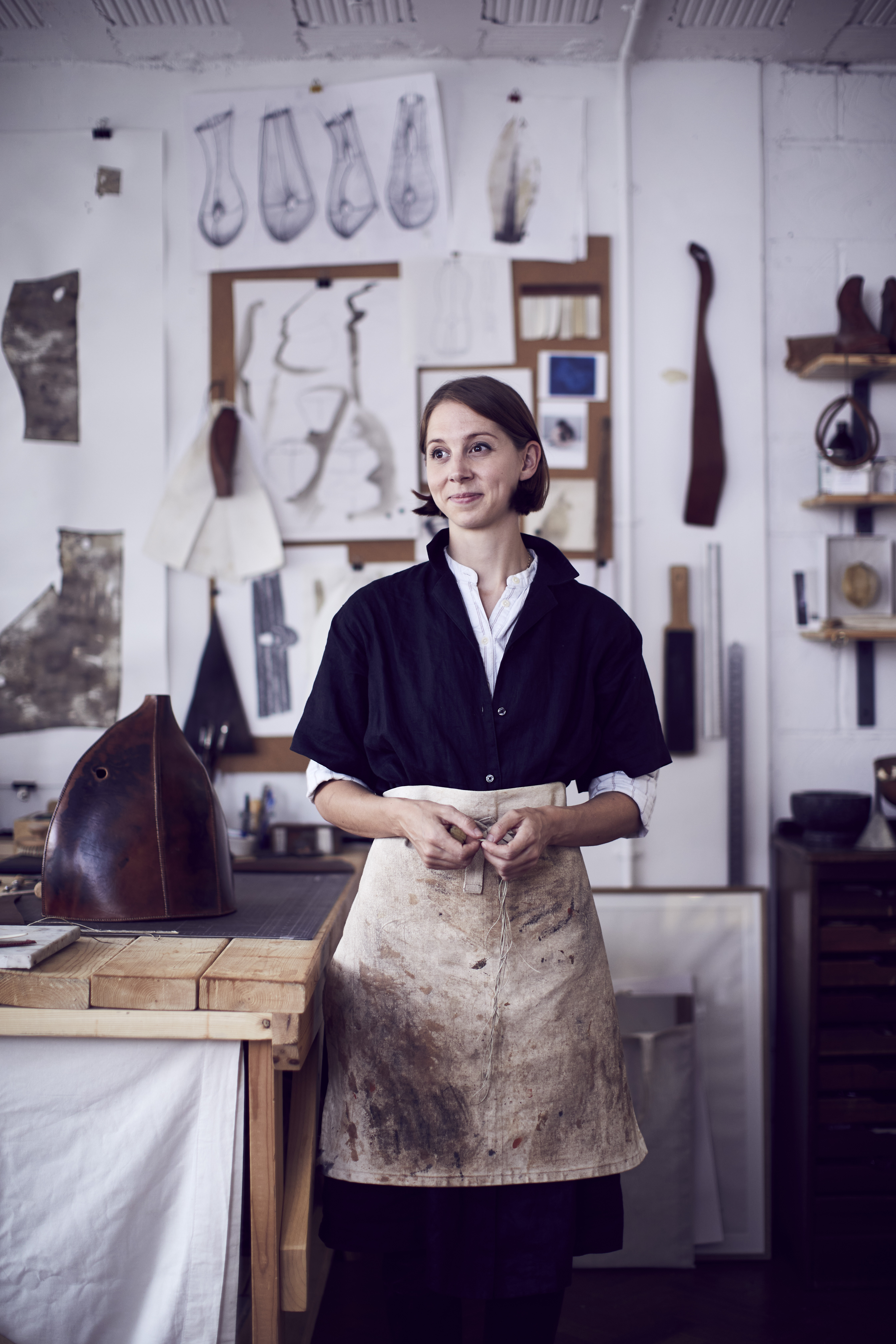 Frances Pinnock (b. 1990, Bristol UK)
BA Modelmaking, Arts University Bournemouth, 2014
---
Frances is a London based artist whose practice explores the possibilities of oak bark leather as a medium for sculpture and object making.
Drawing references from nature and the human figure, her minimalist forms allow a space to express the effects of time and the environment on the surface of the skin. Her sculptural pieces evolve through drawing and pattern cutting, using hand made inks to document panel shapes and influence future forms.
Frances applies slow and respectful hand processing, meticulously hand stitching each piece with hand made threads of hemp and beeswax.
Frances works primarily with full thickness sole bend leather, produced by the last remaining traditional oak bark tanners in the UK. J & F J Bakers utilise bovine skins as a byproduct of local farming and natural tanning methods, at the site of an original Roman tannery. As the sap rises in spring, oak bark is gathered from coppiced woodland in the Lake District and each skin is left to mature for fourteen months to produce the highest quality leather.
---
Current & Upcoming Exhibitions
2nd June - 30th July 2021    Welding Cultures - SoShiro Gallery - London
10th - 13th October 2021    Future Heritage - Decorex International - Olympia London
Past Events
2021    Artefact - QEST - Design Centre Chelsea Harbour, London
2021    Crafting and the Leathersellers' - MA Architecture Lecture, Arts University Bournemouth
2020    Tour Series London Craft Week - Cockpit Arts, London
2019    Making it in London - Cockpit Arts Open Studios, London
2019    Messums - Wiltshire
2019    Christmas Open Studios - Cockpit Arts Open Studios, London
Awards
2021    Developing your Creative Practice - Arts Council England
2021    London Creative Network - Cockpit Arts
2020    Worshipful Company of Leathersellers' Award - Cockpit Arts
2019    Jill Humphreys Springboard Prize - Cockpit Arts
2019    Worshipful Company of Leathersellers' Award - Cockpit Arts
2017    Heritage Craft Association Scholarship - HCA/ The Arts Society
2017    QEST Scholarship - Garfield Weston Foundation
Press
July 2021    Craft Magazine - Issue 289: Place - New Talent
October 2020    QEST Magazine - A Helping Hand - Corinne Julius